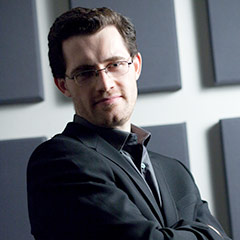 Austin Wintory details artistic process behind "Journey" score in new video
Composition alum Austin Wintory (BM '07) discusses the turbulent but rewarding creative process behind his score of the popular video game "Journey" in a recent video from Polygon. Wintory is an accomplished video game composer whose scores often earn their own fanbase. His score for "Journey" is no different. It debuted on the Billboard charts higher than any original score in gaming history, and has left fans raving years after its original release.
Wintory worked in collaboration with the game's developers, who designed the game in tandem with his score as it developed. For each level, Wintory would compose a score and send it to the game developers, and they would create a prototype based off of the music. Then, Wintory would play the level and adjust and recompose the score based on his playing experience, to heighten the emotional journey of the game. This process worked seamlessly, until uncertainty about the game's finale brought the score and game design to a halt.
Hear the score unfold as Wintory describes how the game's finale became an enduring success: