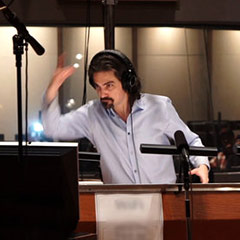 Bear McCreary offers insights into his scores on podcast The Fourth Wall
Bear McCreary (BM '02) was recently interviewed on The Fourth Wall, a podcast that aims to get a behind the scenes look at the film industry from industry professionals. McCreary, who is known for his diverse catalogue of work and innovative scores, offered insights into the process of scoring some of his well-known projects. About finding inspiration for his work on the movie "Godzilla: King of the Monsters," McCreary said "from the minute [Director] Michael [Dougherty] hired me, I knew that I wanted to cover my favorite Blue Oyster Cult song, I knew I wanted my friend Serj Tankian to sing it, and I knew I wanted the rhythm section from Metalocoplypse to play it." The unique score is a notable example of McCreary's propensity for creative innovation.
Griffin Schiller, the creator and interviewer of The Fourth Wall, wrote "Bear's distinct blending of traditional and modern film scoring sensibilities is what sets him apart from other composers along with his drive to innovate." McCreary also spoke about his work on the movie Child's Play, his passion for film as a child and more.