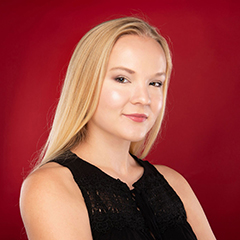 Celka Ojakangas selected as resident composer for Mizzou International Composers Festival
Composition alum and current DMA candidate Celka Ojakangas (MM '18) has been selected to appear as one of eight resident composers at the 2020 Mizzou International Composers Festival (MICF). Ojakangas was selected from among a record 346 entrants from 24 countries.
As a resident composer, Ojakangas will give presentations about her work, take composition lessons with distinguished guest composers, and compose new works for the festival that will be premiered in a public concert by the festival's resident ensemble, Alarm Will Sound.
The MICF is presented by The Mizzou New Music Initiative at the University of Missouri, and will take place July 27-Aug. 1 in Columbia, Missouri.