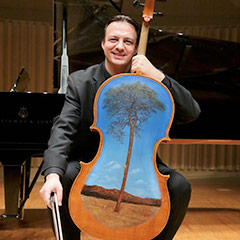 Cellist Marek Szpakiewicz tours Japan to support Fukushima earthquake victims
Cellist and USC Thornton alumnus Marek Szpakiewicz (DMA '08), is currently undertaking a two-week performance tour of Japan to support children in the disaster-ravaged region of Fukushima, where an earthquake and tsunami set off a nuclear accident in 2011. Szpakiewicz, who serves as director of String Studies and Chamber Music at Azusa Pacific University, has raised funds on behalf of the Soma Children's Orchestra and Chorus in Fukushima for several years, performing benefit concerts in both Los Angeles and Japan.
Last week, Szpakiewicz presented a special concert at Azusa Pacific University to support the purchase a half-size cello for the Soma Children's Orchestra. During his forthcoming Japanese tour, Szpakiewicz will perform on the Tsunami Cello (pictured), an instrument crafted using debris from the 2011 disaster.