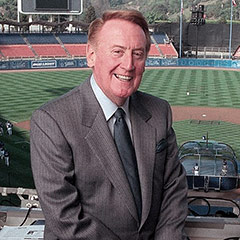 Chris Sampson and Jeffrey Allen assess the musicality of Dodgers announcer Vin Scully
On the occasion of Major League Baseball's 2016 opening day, the Los Angeles Times called upon USC Thornton Division of Contemporary Music vice dean, Chris Sampson, for a detailed – albeit, lighthearted – analysis of the voice of legendary Los Angeles Dodgers announcer Vin Scully.
"I hear boogie-woogie," Sampson told the Times, comparing Scully's vocal rhythms and cadence to those of singers and bandleaders like Bing Crosby, Glenn Miller, and Sinatra. The article features Sampson in a video, looping a sample of Scully's lyrical narrative from a 1955 Wold Series game over a boogie-woogie piano beat. "In every instance that I've heard, he's always had swing to it."
Jeffrey Allen, a member of the Popular Music faculty, was also interviewed for the article, noting that, "Voices are comprised of brilliance and depth, a dark quality and a light, and [Scully's] got great balance of that."
Both experts concluded that Scully's voice, which has become synonymous with baseball in Southern California, shares many of the structural, technical, and emotional traits that define compelling pop music. Sampson compared one of Scully's lines to a 1929 swing classic, Ain't Misbehavin'.
"He starts with a dominant chord, and the dominant chord inherently has some tension to it that's leading to a resolution. And so this tension is leading up to something big," he noted. "I think people remember these game moments because of Vin's musicality."
"I think Vin has an instinct to know that something's about to happen so he uses his musicality to build toward that moment," Allen said. "He's not only giving color analysis, he's giving a concert."
2016 Will be Scully's final season broadcasting for the Los Angeles Dodgers.