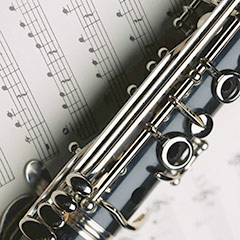 Clarinet student Dario Brignoli takes principal position with Tucson Symphony
Clarinetist and USC Thornton graduate student Dario Brignoli recently won the principal clarinet position with the Tucson Symphony. Brignoli joins three Thornton alumni performing with the ensemble: principal flutist Alexander Lipay (MM '07, flute), principal keyboardist Paula Fan (MM '74, DMA '82, keyboard collaborative arts), and bassoonist Benjamin Yingst (MM '08, bassoon). Thornton graduate certificate candidate Alberto Agut was among the semi-finalists.
Beginning in the fall, Carrie Rexroat (MM '15) will take the position of second horn with both the Tacoma Symphony and the South Dakota Symphony Orchestra.