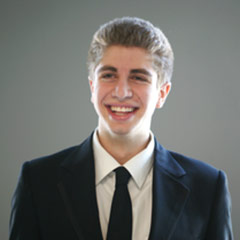 Clarinetist Eric Abramovitz wins Vandoren Emerging Artist Competition
Clarinetist Eric Abramovitz, a USC Thornton Winds & Percussion graduate student of faculty member Yehuda Gilad, recently took 1st Prize for Classical Clarinet at the 2017 Vandoren Emerging Artist Competition.
The Vandoren competition, sponsored by the eponymous mouthpiece and reed manufacturing company, celebrates "the next generation of great clarinetists and saxophonists," and selects three winners each year. In March, Abramovitz will perform at the Music For All convention in Indianapolis. He will also travel to Paris "to meet representatives from Vandoren and participate in a number of activities."
In 2016, Abramovitz won the 2nd/E-flat clarinet position with the Santa Barbara Symphony.