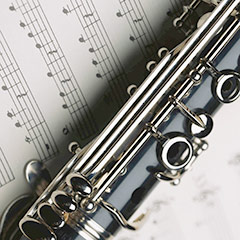 Clarinetists earn prizes at the Vandoren Emerging Artist Competition
Two USC Thornton clarinet students recently took prizes in the 2018 Vandoren Emerging Artist Competition. Masters candidate Ryan Toher earned 1st Prize in Classical Clarinet. This month, Toher will also participate in the New York Philharmonic Global Academy Fellowship Program traveling to New York City for an intensive ten days of training, rehearsal, and performance with musicians from the New York Philharmonic.
Fellow masters candidate Moon Sun Yoo took 2nd Prize in Classical Clarinet at the Vandoren Competition. Both Toher and Yoo are students of faculty member Yehuda Gilad.