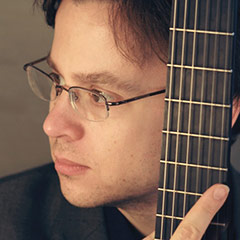 Classical Guitarist Michael Kudirka profiled for Adès collaboration
Internationally acclaimed guitarist and USC Thornton alumnus Michael Kudirka ('04, DMA, '12) was the subject of a feature profile in the spring 2017 issue of Classical Guitar Magazine, exploring his collaboration with composer Thomas Adès. The duo worked together on a "guitar aria" for Adès' surrealist opera, The Exterminating Angel, which is based on the 1962 film by Luis Buñuel and debuted at the Salzburg Festival in 2016 to rave reviews.
"His notation was very pianistic, especially in his approach to articulation, so we found certain timbres and techniques such as tambora and different kinds of rasgueado strumming to help give a wider palette to some of the accented notes," Kudirka recalled. "After we got through everything he said, 'This is great—I'd love to have you play it as well."
Kudirka, who performed in the Salzburg production, will reprise his role for the London debut of The Exterminating Angel at Covent Garden later this month and again at the Metropolitan Opera in New York City in October.