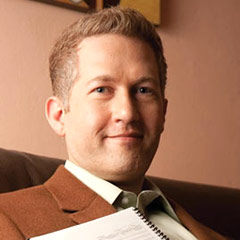 Composer alum Karim Elmahmoudi undertakes Minnesota residency
Karim Elmahmoudi ('07), an alumnus of the USC Thornton Composition program, has completed a guest composer residency with the Wayzata Symphony Orchestra in Wayzata, Minnesota. Following a weeklong visit in September, during which Elmahmoudi met with Wayzata students and audiences to discuss his creative process, the Wayzata Symphony presented his work, Orbit: A Symphonic Fantasy, under maestra Marlene Pauley on October 11.
Elmahmoudi is noted for his orchestral compositions and scoring for films and video games. He has worked as an orchestrator on films such as Spiderman 3, Sleepwalking, Untraceable and the hit television series, Lost.