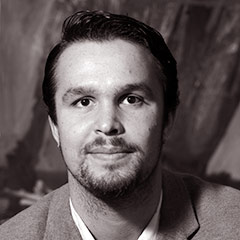 Composer alumnus Tristan Koester finds success with commissions
Composer and Thornton alumnus Tristan Xavier Koester ('15) recently premiered a piece entitled "Memory Fragments" with the Varied Trio, a chamber ensemble featuring Thornton alumni Yuri Inoo (MM '04, DMA '09, percussion) and Aron Kallay (DMA '09, piano). His upcoming work includes recording projects with the trio, as well as traditional Chinese guzheng player Sun Zhou, who will record Koester's "Gushing" suite.
During his studies at Thornton, Koester received commissions from the Varied Trio, the HEARnow Festive of New Music and the Soundscape Music Exchange. A recipient of the school's Dean's Music Scholarship Fund, Koester was also honored as a finalist at the BMI Student Composer awards and the ASCAP Morton Gould Young Composer Awards. His largest commission – by the Shanghai Philharmonic Orchestra – was a reimagining of traditional Peking opera, performed by Chinese vocalist Huo Yongyang alongside a large orchestra at the 2015 Listening to China Festival.
Koester is currently working towards his Masters Degree at the Hamburg Hochschule fur Musik und Theater in Hamburg, Germany and will premier a violin concerto at the Hamburg Laeizhalle in June.