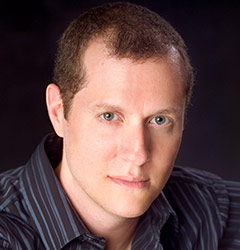 Composer Mark Weiser's opera named year's top operatic event
"Where Angels Fear to Tread," an opera by composer and USC Thornton Composition faculty member Mark Weiser, was named the top operatic event for 2015 by the San Francisco Chronicle (paywall). Premiered in February of 2015 by Opera San Jose, the opera is based on the novel by E.M. Forster and features a libretto by Roger Brunyate.
In his review of the opera for the San Jose Mercury News, Richard Scheinin wrote, "A deft orchestral colorist and word painter … composer Weiser has created several ravishing ensemble numbers along the way, as well as a sparkling interlude of night music and an Old English lullaby that spells peace."
Weiser originated the idea for an operatic adaption of "Where Angels Fear to Tread" while a student at the Peabody Institute some two decades ago. He has since composed two additional operas.