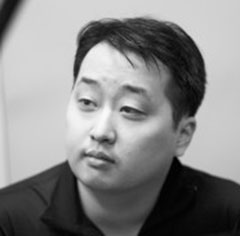 Composition student Michael Lee debuts piece for string quartet on new album
"Farewell…," a work by USC Thornton Composition doctoral candidate Michael Lee, is included on the compilation album Between the Echoes: Contemporary Chamber Works, recently released by Navona Records. Lee's composition for string quartet, which incorporates shifting rhythms, timbres, and moods, was performed by violinists Vit Muzik and Igor Kopyt, violist Dominika Mužíková, and cellist Petr Nouzovský.
Lee's music has been performed by ensembles such as the USC Thornton Symphony, Juilliard Orchestra, and the Serenata String Quartet. He has also received honors and awards including the Charles Ives Scholarship, the USC New Music for Orchestra Composition Award and the Arthur Friedman Prize from the Juilliard Orchestral Composition Competition.
Between the Echoes also features music by composers Daniel Burwasser, Allan Crossman, David DeVasto, and Georges Raillard.