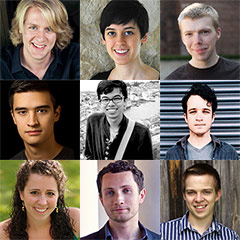 Composition students shine with prizes and premieres
In recent weeks, USC Thornton students – from undergraduate to doctoral – have found success with composition awards and premieres.
Thomas Kotcheff (MM '12, composition), currently a doctoral candidate, received a BMI Student Composer Award on May 18 in New York City for his octet, entitled that in shadow or moonlight rises. In addition to Kotcheff's residencies and collaborations with numerous institutions and ensembles, he recently received a Presser Foundation Award for distinguished contributions to the field of composition.
Recent graduate Daniel Silliman (BM '15, composition) was also selected for a BMI Student Composer Award for his work, strain, for cello and orchestra. Silliman's three pieces for solo cello were recently premiered at the Gamper Festival of Contemporary Music in Brunswick, Maine.
In our nation's capitol, USC Thornton undergraduate composition major Ryan Lindveit will premiere a work with "The President's Own" United States Marine Band as part of the National Band Association's Young Composer Mentor Project. "Spinning Yarns" will be performed on June 16 at the United States Marine Barracks Annex in Washington D.C. and, as winner of the USC New Music for Wind Ensemble competition, it will be performed by the USC Thornton Wind Ensemble on the USC campus in September. As part of his National Band Association award, Lindveit will be mentored by George Mason University professor Mark Camphouse.
Closer to home, recent USC Thornton graduate Daniel F. Allas (BM '15, composition) premiered a new work, smear'd, with the wild Up ensemble as part of the Next on Grand festival of contemporary American music and dance on May 30. Allas was a participant of the Los Angeles Philharmonic's first National Composer's Intensive, which was also attended by USC Thornton graduates Emily Cooley (MM '14, composition) and Patrick O'Malley (MM '15, composition), under the guidance of a faculty which included USC Thornton lecturer Sean Friar. The L.A. Phil's Composer Fellowship Program, an incubator for highschool-aged composers, is overseen by Thornton Composition professor Andrew Norman and doctoral graduate Sarah Gibson (DMA '15, MM '10, composition).