USC Thornton Chamber Orchestra Concert Program
USC Thornton Professor of Keyboard Studies Jeffrey Kahane guest conducts the USC Thornton Chamber Orchestra from behind the piano in an evening concert at Bovard Auditorium featuring Zoom! by Shawn Okpebholo, Mozart's Piano Concerto No. 24 in C minor and Variaciones Concertantes, Op. 23 by Alberto Ginastera.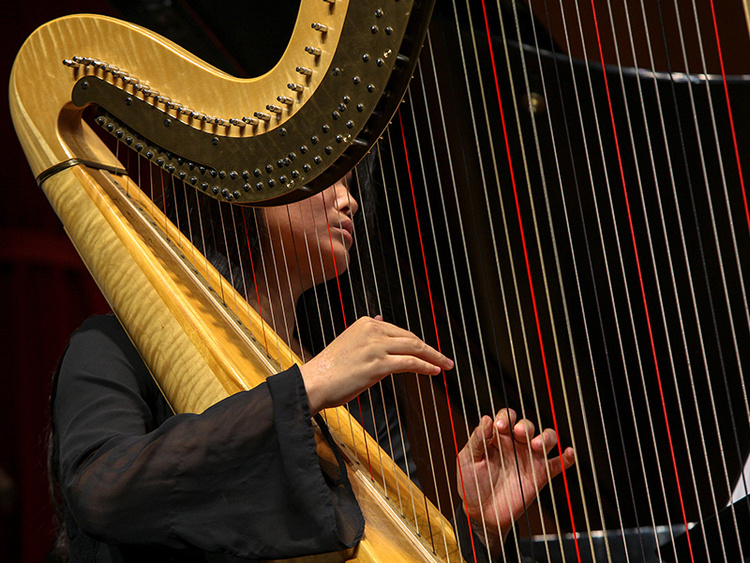 Program
Piano Concerto No. 24 in C Minor, K. 491

   I. Allegro
   II. Larghetto
   III. Allegretto

   Jeffrey Kahane, Piano
Wolfgang Amadeus Mozart
(1756-1791)
Nokuthula Ngwenyama
(b. 1976)
Variaciones Concertantes, Op. 23

   I. Tema per Violoncello ed Arpa
   II. Interludio per Corde
   III. Variazione giocosa per Flauto
   IV. Variazione in modo di Scherzo per Clarinetto
   V. Variazione drammatica per Viola
   VI. Variazione canonica per Oboe e Fagotto
   VII. Variazione ritmica per Trombe e Trombone
   VIII. Variazione in modo di Moto perpetuo per Violino
   IX. Variazione pastorale per Corno
   X. Interludio per Fiati
   XI. Represa dal Tema per Contrabasso
   XII. Variazione finale in modo di Rondo per Orchestra
Alberto Ginastera
(1916-1983)
Program Notes
Wolfgang Amadeus Mozart
Piano Concerto No. 24 in C minor, K. 491 (1786)
Mozart's Piano Concerto No. 24 in C minor, K. 491 was premiered on March 19th, 1786, and was led by Mozart himself at the Burgtheater in Vienna, Austria. Mozart completed this concerto three weeks following the completion of Concerto No. 23 in A, K. 488. It was the work he completed just before his opera Le Nozze di Figaro, K.492, and less than a year and one half before the creation of Don Giovanni (1787). The only other concerto written in a minor mode up to this time was the Concerto in D minor, K. 466 (1785). That concerto (K. 466), which shares the same key as Don Giovanni, was the one that Romantic composers identified with most as the embodiment of Mozartian pathos. In many ways, K. 491 projects a less dramatic, less operatic, persona; it has a more reflective, personal, almost intimate quality, more akin to chamber music.
This concerto is unique for having a dark, despairing, and contemplative texture. Mozart was so taken with the abundance and abilities of the wind players in Vienna, that he used them in his scores as a distinct "mass" of sound against which the voice of the piano could be pitted, or to which it could respond in an interplay of motivic and timbral dialogue.
Mozart was considered by many to be the greatest of living opera composers. After opera, the genre best suited to witness the dramatic forces of Mozart is the concerto Mozart wrote 27 concertos. This concerto contained one of the largest orchestras in any of the Mozart Piano Concerts. It has an expanded role for wind instruments, which no longer simply double the strings but contain a unique melodic character and voice.
Derek Zimmerman (MM 2022, DMA 2025)
Nokuthula Ngwenyama
Primal Message (2020)
It's 1974. What should we put in humanity's first message in a bottle sent 25,000 light years away? Astronomers Francis Drake (Drake equation), Carl Sagan (Contact), and others created the historic Arecibo message, in which 186 seconds of interstellar radio waves sent a friendly map, our then-understood DNA structure, and transmitting technology in binary anthropomorphic organization to globular M13 in our galaxy's Hercules cluster.
The ideas conveyed by Steven Johnson's New York Times Magazine article "Greetings E. T. (Please Don't Murder Us.)" from June 28, 2017, encouragement from the Phoenix Chamber Music Society and Chamber Music Northwest, and early days with partner John Clements awakened imaginings about what a "primal message" might sound like. This assumes other possible life forms hear and feel sound like we do. Opening off-world communication through transverse waves explores existential conveyance under a frayed veil of decorum through form, melody, and numbers.
Primal Message is a fantasia that relies upon primal relationships—duo vs. trio textures, modulations through the ii with conventional homage to the V, one voice as the outlier in primal 2 vs. 3 vs. 5 rhythmic layering, melodic structure descending in seconds and thirds, centering around the fifth, then leaps and the occasional septuplet. It invites examination of our collective evolution through a drive to express, tying us in concert with universal celebration.
Primal Message received its orchestral world premiere on November 5, 2020, with Xian Zhang leading the Detroit Symphony Orchestra.
Nokuthula Endo Ngwenyama
Alberto Ginastera
Variaciones Concertantes, opus 23 (1953)
Known as one of Argentina's greatest composers, Ginastera composed this piece in a dark and frustrating time of his life. After having various disagreements with the Argentinian president, Juan Perón, Ginastera lost his faculty position at the Conservatorio de Música y Arte Escénico in La Plata, Argentina in 1952, leaving him in severe financial distress. The loss of this position and other frustrations with the political situation in Argentina caused Ginastera to eventually move to Geneva in 1971. These frustrations and hardships greatly influenced Ginastera's compositions and how he identified with his music and nationality over time. Looking back over his own career, Ginastera self-ascribed three different periods through which his compositional journey traveled: "objective nationalist" (1934-1948), "subjective nationalist" (1948-1959), and "neo-expresionist" (1958-1983).
Variaciones Concertantes, commissioned in 1953 by the Asociacion de la Musica Orchestra under the direction of Igor Markevitch, was written during Ginastera's "subjective nationalist" period. Rather than using Argentinian folk elements as the foundation of the piece like he did in his "objective nationalist" period, Ginastera used these elements in a more introspective way. In his own program notes for the piece, Ginastera said, "These variations have a subjective Argentine character. Instead of using folkloristic material, I try to achieve an Argentine atmosphere through the employment of my own thematic and rhythmic elements."
The piece begins with a six-note figure in the harp that is imitative of the open strings of the guitar (E-A-D-G-B-E). A solo cellist then enters with the captivating, folksong-inspired main theme. The subsequent variations of this theme are each taken by either soloing or duetting instruments. While this piece was influenced by Argentinian folk music, Ginastera's focus was directed towards highlighting the instruments of the ensemble, exploring how they function both individually and with one another. This piece exemplifies Ginastera's masterful skills as a composer and how he explored both his music and nationality identity.
Kaitlin Miller (MM 2023)
About the Artists
Acclaimed pianist Jeffrey Kahane joined the USC Thornton Keyboard Studies Department faculty part-time in 2015 and became a full-time professor in 2016 following a 20-year run as music director of the Los Angeles Chamber Orchestra (LACO), the longest of any music director in the ensemble's history.
Equally at home at the keyboard or on the podium, Kahane has established an international reputation as a truly versatile artist, recognized by audiences around the world for his mastery of a diverse repertoire ranging from Bach, Mozart and Beethoven to Gershwin, Golijov and John Adams.
Since making his Carnegie Hall debut in 1983, Kahane has given recitals in many of the nation's major music centers including New York, Chicago, Boston, San Francisco, Los Angeles and Atlanta. He appears as soloist with major orchestras such as the New York Philharmonic, Cleveland Orchestra, Los Angeles Philharmonic, Philadelphia Orchestra and the Toronto and San Francisco symphonies and is also a popular artist at all of the major U.S. summer festivals.
Kahane made his conducting debut at the Oregon Bach Festival in 1988. Since then, he has guest conducted many of the major US orchestras including the New York and Los Angeles Philharmonics, the Philadelphia and Cleveland Orchestras, the Saint Paul Chamber Orchestra and the Chicago, Detroit, St. Louis, Baltimore, Indianapolis and New World symphonies among others. Kahane served more than two decades as music director of the Los Angeles Chamber Orchestra before stepping down in 2017. He concluded his tenure as music director of the Colorado Symphony in June 2010 and for ten seasons was music director of the Santa Rosa Symphony, where he is now conductor laureate. He has received much recognition for his innovative programming and commitment to education and community involvement with all three orchestras and received ASCAP awards for adventurous programming for his work in both Los Angeles and Denver.
Recent engagements include appearances at the Aspen, Caramoor and Blossom festivals; concerto performances with the Toronto, Houston, New World, Colorado and Oregon symphonies among others; play/conducts with the San Francisco, National, Detroit, Vancouver, Indianapolis and New Jersey symphonies and the Rochester Philharmonic, as well as for the third time in four seasons with the New York Philharmonic; and conducting the New England Conservatory Symphony Orchestra in Boston, the Juilliard Orchestra at Lincoln Center and the National Repertory Orchestra in Colorado.
Kahane's recent European engagements include play/conduct programs with the Camerata Salzburg, Hamburg Symphony and the Real Philharmonic de Galicia in Spain, as well as appearances at the Meck-Pomm Chamber Music Festival in Germany.
Kahane has recorded for the SONY, EMI, Telarc, RCA, Nonesuch, Deutsche Grammophon, Virgin Records, Decca/Argo and Haenssler labels in collaboration with the New World, Cincinnati, Bournemouth and Oregon Bach Festival symphonies, as well as works by Gershwin and Bernstein with Yo-Yo- Ma, the complete works for violin and piano by Schubert with Joseph Swensen, and Bach concertos with LACO and Hilary Hahn.
A native of Los Angeles and a graduate of the San Francisco Conservatory of Music, Kahane's early piano studies were with Howard Weisel and Jakob Gimpel. First Prize winner at the 1983 Rubinstein Competition and a finalist at the 1981 Van Cliburn Competition, he was also the recipient of a 1983 Avery Fisher Career Grant. An avid linguist who reads widely in a number of ancient and modern languages, Kahane received a master's degree in classics from the University of Colorado at Boulder in 2011.
He resides in Los Angeles with his wife, Martha, a clinical psychologist in private practice. They have two children – Gabriel, a composer, pianist and singer/songwriter and Annie, a dancer and poet.
Ensemble
Violin I
Yue Qian, concertmaster
Olena Kaspersky
Bradley Bascon
Veronika Manchur
Elizabeth Wei
Haesol Lee
Diana Dawydchak
Peiwen Su

Violin II
Floriane Naboulet, principal
Owen Lin
Qiaorong Ma
Laura Gamboa
Abigail Park
Johnathan Wu
Sarah Overcash

Viola
Nicolas Valencia, principal
Gloria Choi
Emma Antonides
Sophia Valenti
Daniel Miles
Ellie Welker

Cello
Quenton Blache, principal
Myles Yeazell
Mairead Flory
Joseph Kim
Taewon Park
Celilo Swain

Bass
Sarah Wager, principal
Zach Hislop
Sam Miller
Alan Wang
Harp
Kaitlin Miller

Celeste
Cami Akioka

Flute
Juwon An*
Jeongwon Bae+

Oboe
Sonia Matheus*+
Sara Petty

Clarinet
Elad Navon*
Heesoo Kim+
Bram Schenk
In Soo Oh

Bassoon
Emily Lazernik *+
John Gonzales

Horn
Aiman Khan*
Rachel Lauson+

Trumpet
Jessica Farmer*
Imani Duhe+
Jorge Araujo Felix

Trombone
Raymundo Vizcarra+

Timpani
Luciano Valdes

Percussion
Zoe Beyler^
Jeremy Davis

*denotes principal on Mozart
+denotes principal on Ginastera
^denotes principal on Ngwenyama