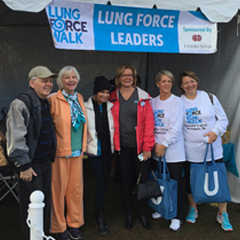 Cynthia Munzer leads Lung Force Walk; named artistic director of Musiktheater Bavaria
USC Thornton Vocal Arts faculty Cynthia Munzer led and completed the inaugural Lung Force Walk in Los Angeles on November 1. Sponsored by the American Lung Association, the event supported a nationwide initiative against lung cancer. Munzer spoke about the importance of raising awareness for lung cancer and working to focus resources on lunch cancer research. She was also awarded the Lung Force Kathryn Joosten Award.
Additionally, the critically acclaimed mezzo-soprano was named artistic director of the German summer institute, Musiktheater Bavaria. The program includes artists and professors from USC Thornton and various music organizations throughout the world. In July, 2015, Munzer will be a resident faculty member at Musiktheater Bavaria, teaching master classes and a voice studio.