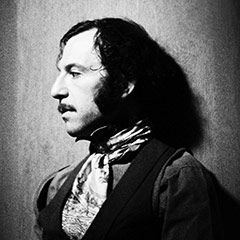 Daedelus releases new album What Wands Won't Break
Jazz Studies alum Alfred Darlington (BA '00), known professionally as Daedelus, has released a new album from record label Dome of Doom. Titled What Wands Won't Break, the album follows the electronic music artist's 2019 release, The Bittereinders, and continues his streak of producing an album every year.
What Wands Won't Break draws influence from Darlington's friend, prominent Los Angeles-based producer Ras G, who passed away last year. Ras G's work inspired him to make music that defies convention and pushes digital music-making program Ableton "to the edge." The result is an album that self-titled magazine calls "one of his rawest solo records in years."
Listen to What Wands Won't Break on Bandcamp.