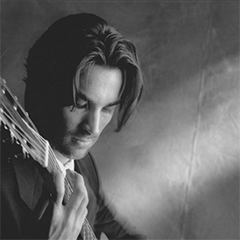 Daniel Smythe forges nontraditional career path
Classical Guitar alum Daniel Smythe (BM '95, MM '97) was recently profiled in Trojan Family Magazine, where he discussed his unconventional career path as a musician and business consultant.
Smythe earned his Bachelor and Master of Music at USC Thornton, and envisioned himself as a musician and teacher. However, after taking an arts management role at the Los Angeles Philharmonic, Smythe discovered his aspiration for business. He earned his MBA at the University of Chicago, and transitioned to a career in business consulting.
Now, Smythe plans to converge his two career paths. His goal is to use his business accumen to help arts organizations grow and thrive. "As a wise friend once said, you need to find the intersection between your skills and the world's needs," Smythe says. "It just took me a little longer to find that intersection."