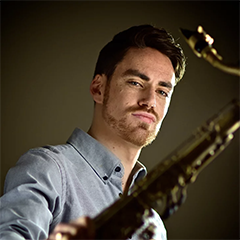 Daniel Weidlein produces debut album by vocal artist Julie Craig
USC Thornton Jazz Studies alum Daniel Weidlein (BM '12) recently produced, arranged and orchestrated the debut album by vocal artist Julie Craig, From Here, released on Jan. 10. On the album, Craig, who is known for her roles in Broadway shows such as "Les Miserables" and "West Side Story," performs classics and original music, backed by a 46-piece orchestra featuring fellow Thornton alum Sidney Hopson (BM '08, GCRT '10, MM '12) on percussion.
The album was recorded in part at Weidlein's Silver Lake-based recording studio, BioSoul Music, and was produced entirely through crowd-funding platforms and community support, without the aid of a record label. As a musician, composer and producer, Weidlein has released a number of albums of his own, such as his 2019 release Winter's Lullaby, as well as producing albums for artists such as Blake McGrath and Luke Edgemon.