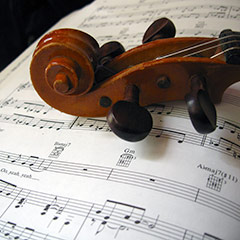 Delirium Musicum chamber ensemble announces call for scores
Delirium Musicum, a conductorless chamber ensemble founded by violinist and USC Thornton alumnus Etienne Gara, has announced a call for scores open to composers of any age and nationality. The deadline for submission is October 15, 2018 with the works to be premiered in a February concert.
The ensemble, which won the 2018 Beverly Hills National Audition, includes a large number of Thornton students and alumni, including violinists Kyle Gilner (BM '16), Alex Granger (MM '15), YuEun Kim (GCRT '17), Mann-Wen Lo (GCRT '16), Mishkar Nunez-Fredell (MM '09, DMA '17), and Roberta Yee (BM '18); cellists Joo Lee (DMA '13) and Javier Iglesias Martin (GCRT '18); bassist Ryan Emerson Baird (MM '13, GCRT '15); classical guitarist Erin Young (BM '16); and harpsichordist Arthur Omura (BM '10, MA '12).
Delirium Musicum will present an October 10th performance at USC's Joyce J. Cammilleri Hall, featuring music by J.F. Rebel, G. Bersanetti, Bartok, Glass, Shostakovich, and Vivaldi. Their 2018 performance of Bersanetti's Les Bouffons Acrobatiques can be seen below.