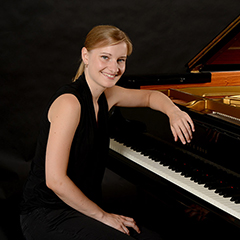 Eva Schaumkell wins James Ramos International Competition
Eva Schaumkell, a doctoral student in Keyboard Studies, earned first prize the James Ramos International Video Competition for her video of Liszt's Rigoletto Paraphrase. She performed the recording in October at the 2018 California Association of Professional Music Teachers Conference, held in Redondo Beach.
Additionally, Schaumkell performed a recital of Mozart and Beethoven Quartets on November 4 at the Dorothy Chandler Pavilion with Tereza Stanislav and members of the Calder Quartet, as well as Thornton alumni Eric Byers '03 and Jonathan Moerschel ('01, MM '03).