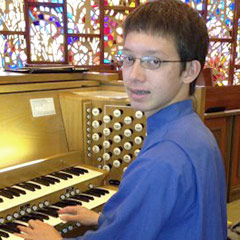 Extraordinary young organist begins studies at USC Thornton
Incoming USC Thornton freshman Organ Studies major Ethan Haman was the subject of a recent feature profile by the Los Altos Town Crier. The 17-year-old began serving as his church's official organist three years ago and has since gone on to study with master organists in Europe. Haman's Northern California community bid him farewell with a warmly-received recital of German and French works attended by about 100 friends and supporters in August.
"I want to help a new generation see that [the organ is] a magnificent instrument," he told the Town Crier. "It is for anything you can play, whether Chinese pop songs or American marches."
While Haman will major in organ performance at USC Thornton, he also plans to pursue courses in linguistics and musical composition and premiered several of his own works at the farewell recital.