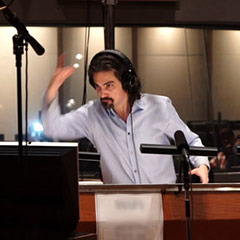 Film composer, alum, Bear McCreary featured on NPR
USC Thornton alumnus Bear McCreary (BM '02) was interviewed recently on NPR's All Things Considered about his success as a film and television composer. His first major studio film score came this year for J.J. Abrams' thriller 10 Cloverfield Lane, which opened March 11. McCreary started out scoring for the sci-fi series Battlestar Galactica and went on to compose music for The Walking Dead, Black Sails, Agents of S.H.I.E.L.D. and Outlander.
In the interview, McCreary discussed his early mentorship opportunities with legendary film composer Elmer Bernstein, who helped to shape his unique and compelling compositional voice. The All Things Considered interview can be streamed here.
McCreary was also interviewed by website Inverse.com about his music for science-fiction series.