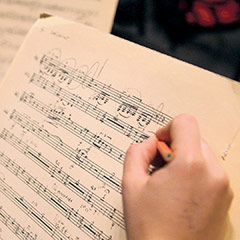 Film scoring alumni selected for Universal Film Music Composer Initiative
Four USC Thornton film scoring alumni – George Shaw (BM '04, Film Scoring), Jermaine Stegall (GCRT '04, SMPTV), Layla Minoui (GCRT '08, SMPTV), and Jongnic Bontemps (GCRT '12, SMPTV) – have been selected as finalists for the Universal Film Music Composer Initiative, which aims to nurture up-and-coming screen composers.
As noted in the Hollywood Reporter, the composers will create original scores for two DreamWorks Animation short films, with the winners awarded a full orchestral scoring session. All of the finalists will enjoy mentorship opportunities with Universal Film Music and DreamWorks Animation executives.