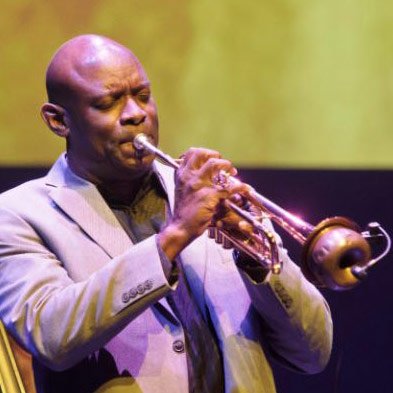 Four stars for Ron McCurdy's Langston Hughes Project with rapper Ice-T
The Langston Hughes Project, an ongoing series of music, artworks and performances by trumpeter and USC Thornton Jazz Studies professor Ron McCurdy, received rave reviews for its European premiere at the Barbican Theatre in London last month. The project realizes the late poet Langston Hughes' ambitions to create a jazz accompaniment to his 1961 poem, "Ask Your Mama." In London, McCurdy and a band of musicians were joined by rapper Ice-T, who gave voice to Hughes' iconic text.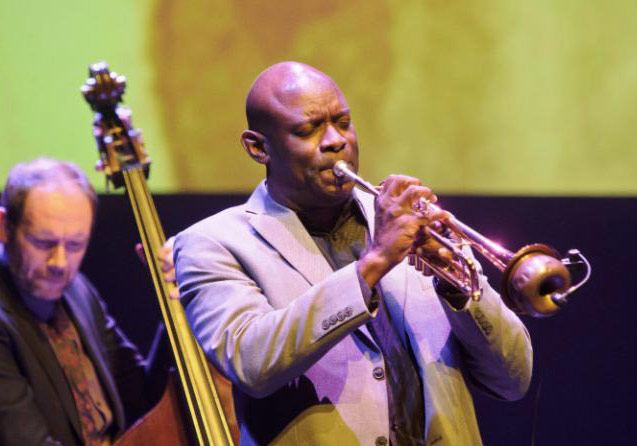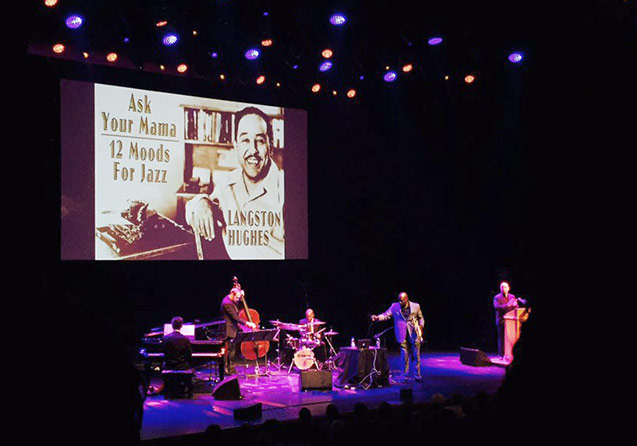 Ron McCurdy performs on trumpet (Photo by REX); McCurdy, Ice-T,a dn the Langston Hughes Project on stage at the Barbican, London (Photo by Claire McAuley).
The London Jazz Festival performances, just the latest in a series that originated six years ago, received four-star reviews in both the Telegraph and the Guardian, which noted that "McCurdy trades verses with Ice-T, serving as the ebullient Baptist preacher to the rapper's deadpan lecturer … Langston Hughes would have been proud."
During his English tour, McCurdy also performed a set at Ronnie Scott's, the iconic jazz club in London, where he opened for groundbreaking vocal jazz artist Jose James.