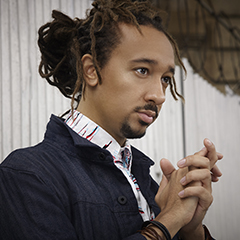 Gerald Clayton named artistic director and conductor of Next Generation Jazz Orchestra
Thornton alum Gerald Clayton (BM '07) was recently announced as the Artistic Director and conductor of the Monterey Jazz Festival's Next Generation Jazz Orchestra for 2020-2022. The 50th annual Next Generation Jazz Festival, organized by the Monterey Jazz Festival, will take place April 3-5 and showcase over 1,300 middle and high school musicians.
Clayton is a GRAMMY-nominated pianist and has been involved with the Monterey Jazz Festival for many years. In 2017, he performed as the artist-in-residence at the 60th Monterey Jazz Festival alongside his father John Clayton, the festival's first father and son artist-in-residence duo. Clayton also participated in the Next Generation Jazz Festival in 2000 and 2001 as a student of Los Angeles County High School for the Arts, when he won the festival's soloist award.