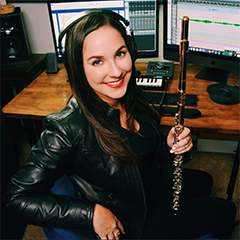 Gina Luciani featured in Avid campaign
Gina Luciani (MM '13), a USC Thornton alum and flutist, was recently featured in a campaign for Avid, a company that supplies the tools and technology for creators and media enterprises to thrive in the digital media era. Luciani was featured in a video spotlight for Avid's new "I Am Avid" initiative highlighting artists and content creators. Since graduating from Thornton, Luciani has built a thriving social media presence that she uses to share her expertise, offer lessons, and publish music.
Check out Luciani's "I Am Avid" feature here.