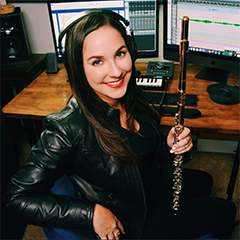 Gina Luciani to release original arrangement of Bizet's "Carmen Fantasy"
USC Thornton alum and flutist Gina Luciani (MM '13) will release an arrangement of Georges Bizet's "Carmen Fantasy" in September. A celebrated studio musician with an active following, Luciani's version has been over 10 years in the making and features music for both flute and piano.
Luciana was first introduced to "Carmen Fantasy" at the age of seven. "As a young flutist, my introduction to Bizet's Carmen was one of both captivation and motivation. Over the years, I began working on my own version, incorporating important themes and adding my own personal touch," said Luciani. "What began as a love for the music has now concluded fifteen years later with a deep appreciation for the opera, and for sticking with those little things that mean so much to you as a young musician."
The arrangement first appeared on Luciani's self-titled debut album in 2016 and is available for pre-order through September 5th on her website.