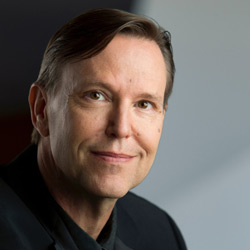 Grant Gershon shares advice for virtual choirs
In a recent KCET article, USC Thornton alum Grant Gershon (BM '85), artistic director of the Los Angeles Master Chorale (LAMC), shares advice and lessons learned while conducting choirs virtually during the pandemic.
Choir directors like Gershon have transitioned to edited ensemble performances, with choir members recording their parts individually from home. The solution requires a great deal of post-production, but has allowed ensembles like LAMC to produce a number of virtual performances and keep their community connected.
"Our experience has been over and over that the real meat of the project is in the building of it," Gershon says. "That's where the sense of community happens and where everybody starts to feel part of something larger than themselves."