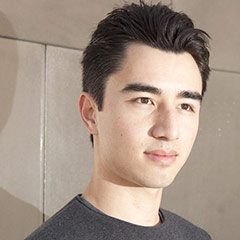 Guitarist and film scoring student Tim Callobre profiled in OZY
USC Thornton Scoring for Motion Pictures & Television (SMPTV) graduate student Tim Callobre (BA '15, Music) was recently profiled in OZY magazine, which detailed his prodigious experience as a classical guitarist and his growing body of work in film scoring. Callobre has previously received a composition fellowship with the Los Angeles Philharmonic (LAPhil) and has won two Young Composer Awards from the American Society of Composers, Authors and Publishers (ASCAP).
Callobre began studying privately with faculty member William Kanengiser at the age of 11 and was admitted to Thornton's Classical Guitar program on a full scholarship. Recalling their very first meeting, Kanengiser said, "I almost fell over. He played with such mastery and incredible musicality."
Currently a Graduate Certificate student in the SMPTV film scoring program, Callobre has already composed the score for a feature documentary, Making the American Man, and is pursuing new projects and collaborations in the composition field.