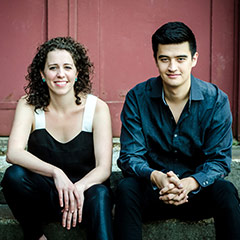 HOCKET new music ensemble makes waves at Carlsbad Music Festival
The new music duo, HOCKET, which includes current USC Thornton D.M.A. Composition student, Thomas Kotcheff (M.M. '12, composition) and Composition faculty member Sarah Gibson (M.M. '10, composition; D.M.A. '15, composition), recently performed in a series of concerts at the Carlsbad Music Festival.
The duo performed compositions by David Lang, Alex Weiser, Aaron Holloway-Nahum, and Tristan Perich – and premiered new works by Thornton alumni Emily Cooley (M.M. '14, composition) and Ryan Harper (M.M. '12, composition). The Carlsbad Music Festival was founded by alumnus Matt McBane (BM '12, film scoring).
In a review for the San Diego Union Tribune, James Chute noted that "In the west coast premiere of Aaron Holloway-Nahum's 'Remember Me? (Part IV)' for two toy pianos, [Sarah Gibson and Thomas Kotchef's] teamwork was exemplary, their playing was a delight."
Over the next month, HOCKET will present concerts at California State University Long Beach (Sep. 16), CalArts (Sep. 22) and Los Angeles Valley College (Sep. 23).