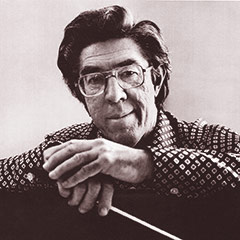 In Memoriam: Daniel Lewis, longtime leader of the USC Thornton Symphony
Daniel Lewis, Emeritus Professor of the USC Thornton School of Music, longtime conductor of the USC Thornton Symphony and former director of Conducting Studies, has recently passed away. He was 92.
Lewis was raised in the La Mesa/San Diego area. While stationed in Honolulu, Hawaii during his stint in the U.S. Navy in World War II, he performed as violinist in string quartets and other chamber music ensembles, dance bands, and whatever additional musical assignments that suited the needs of the Navy. He went on to study at California State University, San Diego and later at Claremont Graduate School, and at the Hochschule für Musik in Munich, courtesy of a Fulbright Scholarship. Lewis conducted the orchestra and marching band at Helix High School in La Mesa, experiences that gave him a unique perspective on student musicians which would serve him well in his acclaimed career as a conductor at USC and beyond.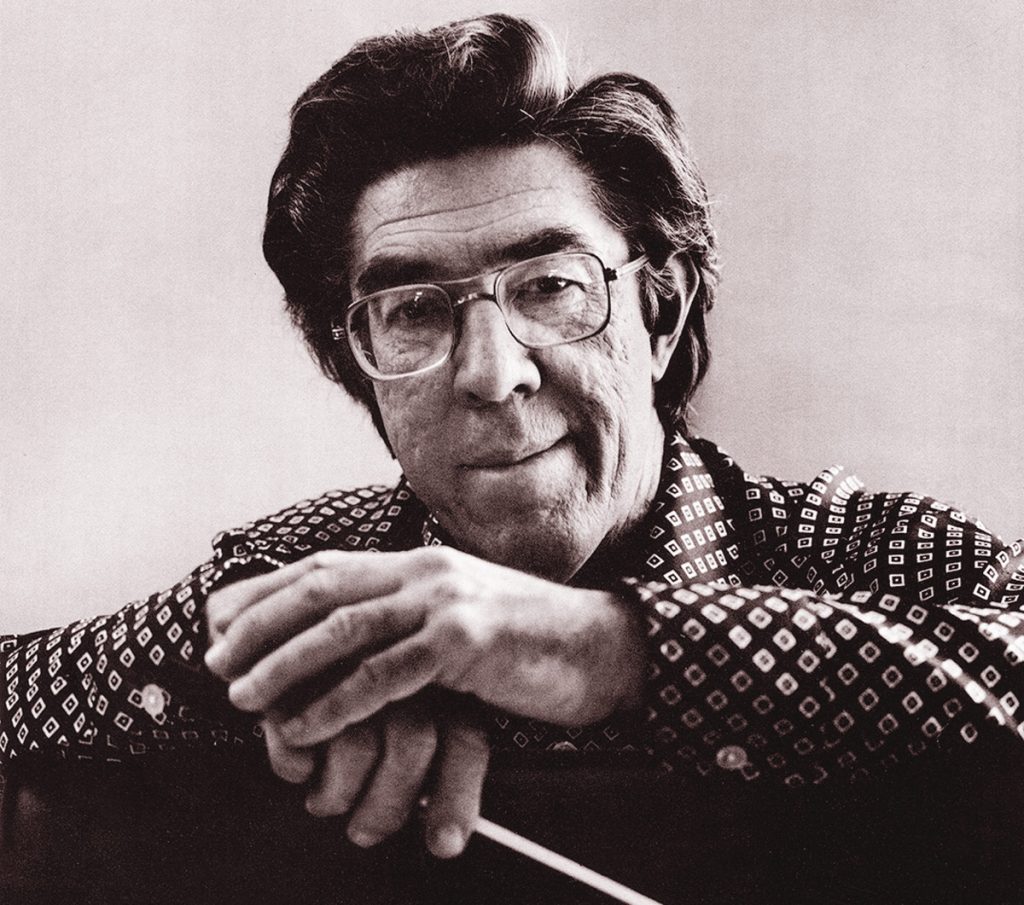 Daniel Lewis, longtime USC Thornton faculty member. (Click for additional photos)
Daniel Lewis, longtime USC Thornton faculty member. (Click for additional photos)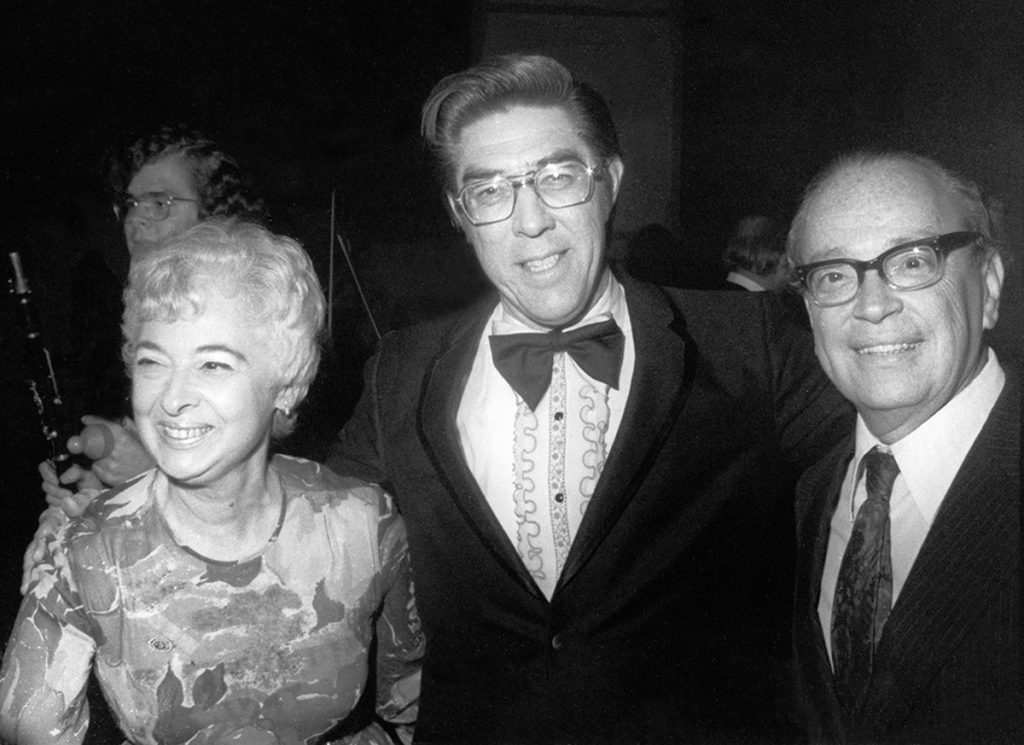 Daniel Lewis (middle) with fellow faculty members, violinist Eudice Shapiro and USC Thornton Opera director Walter Ducloux.
Daniel Lewis (middle) with fellow faculty members, violinist Eudice Shapiro and USC Thornton Opera director Walter Ducloux.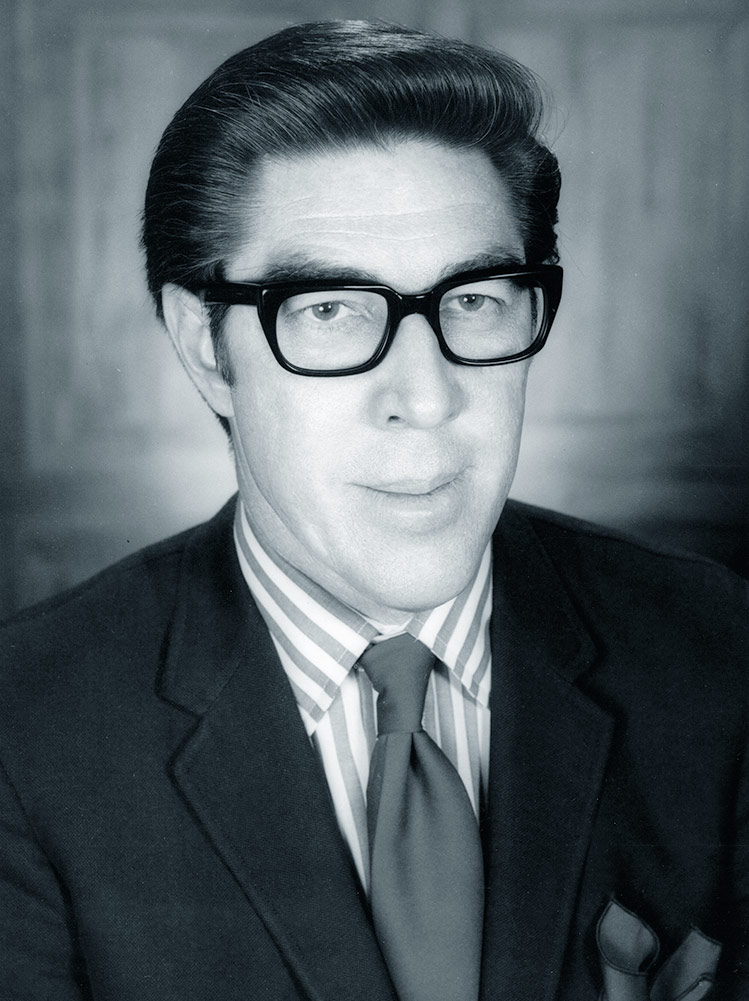 Daniel Lewis, 1970.
Daniel Lewis, 1970.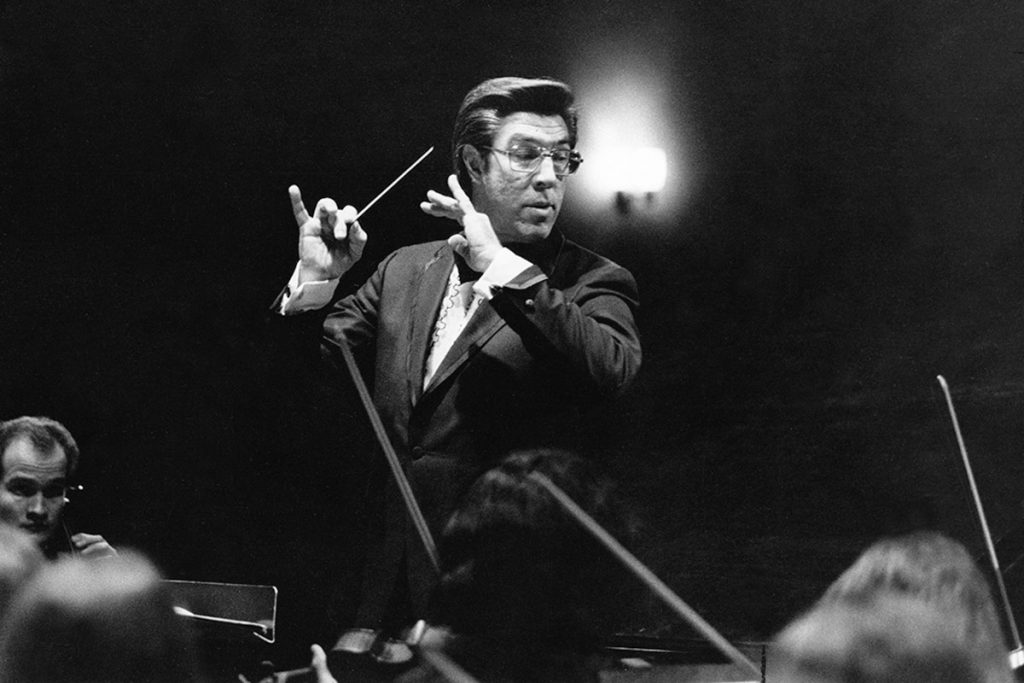 Daniel Lewis conducting the USC Thornton Symphony in 1973.
Daniel Lewis conducting the USC Thornton Symphony in 1973.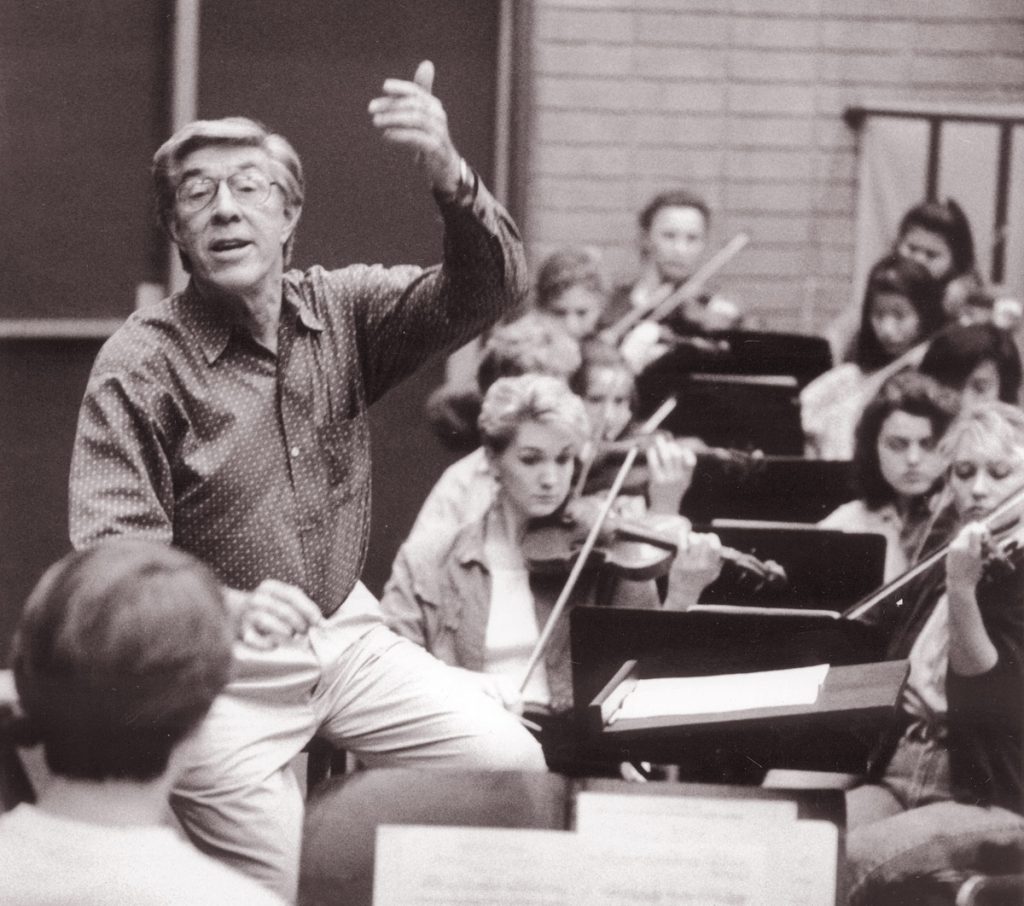 Daniel Lewis rehearsing the USC Thornton Symphony in the early 1990's.
Daniel Lewis rehearsing the USC Thornton Symphony in the early 1990's.
He was concertmaster and associate conductor of the San Diego Symphony during Robert Shaw's tenure from 1953-1957, and Shaw became a mentor who helped propel and influence Lewis's development as a conductor. In 1957, Lewis founded the Civic Youth Orchestra of North San Diego County, conducting the orchestra until 1959. The CYO recently celebrated its 60th Anniversary with a gala in Lewis's honor, two weeks before he passed away. It was his last public appearance.
"He had done a lot of professional conducting, but he felt that his experience in public school teaching was a very big part of what made him effective and successful," said Larry Livingston, current chair of the department of Conducting and former dean of USC Thornton for nine of Lewis' 25 years at USC. "He had all kinds of interesting ideas about conductors and music."
Lewis garnered a reputation for bringing out the highest level of skill in his orchestras. He was music director of the Pasadena Symphony from 1971 to 1982. The orchestra received numerous professional accolades including five ASCAP Awards for adventurous programming, raising that orchestra's profile to a level rivaled locally only by the Los Angeles Philharmonic.
"On a good day, his USC orchestra could withstand comparison with almost any orchestra in academia and beyond," wrote critic Martin Bernheimer in the Los Angeles Times. "His students, moreover, have gone on to spread the Lewis gospel nationally."
Lewis twice served as music director of the Ojai Music Festival, as music director of the Cabrillo Festival of Contemporary Music, and as musical advisor and conductor for the Glendale Symphony. With Leonard Bernstein, he co-directed the first season of the Los Angeles Philharmonic Institute. He made his debut with the Los Angeles Philharmonic in 1974, conducting over 30 concerts with the ensemble, and guest conducted numerous American orchestras including the Los Angeles Chamber Orchestra, Seattle Symphony, Louisville Symphony, Minnesota Orchestra as well as at the Fryderyk Chopin University of Music in Warsaw, Poland. Lewis was music director of the Orange County Symphony, a precursor to the Pacific Symphony, currently led by Carl St.Clair, artistic director of the USC Thornton orchestra program.
The first member of the USC Thornton faculty to be named a University Professor, Lewis led the USC Thornton Symphony in performances in Bovard Auditorium as well at the Ambassador Auditorium, Segerstrom Center for the Arts, and the Kennedy Center for the Performing Arts in Washington, D.C. The Kennedy Center concert marked the second performance of Pulitzer Prize-winning composer Karel Husa's 1988 Cello Concerto with Lynn Harrel as soloist, the Gregor Piatigorsky Chair in Violoncello at USC Thornton from 1986-1993. Husa won the Grawemeyer Award in 1993 on the basis of the concert recording with the USC Thornton Symphony.
Another notable performance was the Los Angeles premiere of another Grawemeyer Award-winner, John Corligiano's Symphony No. 1 on Nov. 9, 1992, mere months before the Los Angeles Philharmonic's performance with David Zinman conducting. "The little David of the USC Symphony has beaten the mighty goliath of the Los Angeles Philharmonic to the punch by giving the L.A. premiere of John Corligiano's First Symphony," wrote Chris Pasles in the Los Angeles Times.
As a highly-regarded teacher of conducting, Lewis taught at numerous workshops and masterclasses including the California Conducting Institute, League of American Orchestras, and the Conductors Guild, among others.
"I think the most important thing I relayed [to the students] is the attitude that I relayed to them of professionalism, of the responsibility to the music and to making music," Lewis said during a 2006 Living History interview. "I was very, very hard on the rules and regulations. People did not miss rehearsals."
Music critic Christine Shade described his approach best in a 1995 review when she wrote in the USC Chronicle, "Lewis' baton might as well be a magic wand, so deftly does he use it to caress and punctuate the musical line, to turn separate parts into a whole. But it's not magic that makes the USC Symphony go, it's talent. Talent fueled by Lewis' coaxing and cajoling dashed with sternness, mixed with respect."
Former students and colleagues recall Lewis as an exacting leader. Michelle Kim MM '95, assistant concertmaster of the New York Philharmonic, remembers nearly being kicked out of the orchestra despite her status as a Starling Foundation scholarship recipient. Lewis "made me take my gum out and throw it in the trash can in front of 100 people," she said. "Then he made me play the entire symphony in his office to make sure I knew the repertoire. That was the only way I was going to pass orchestra."
"He gave me a rude awakening," Kim continued. "Ever since then, I fell in love with that man, and I will always love him."
Former students, faculty colleagues, professional performers and musicians from across the globe have described their years working with Lewis as transformative.
"Musicians everywhere, from all walks of life, have talked about what a great influence he was and how much he affected their development as musicians and conductors," said Joni Steshko MM '95, a conductor and musicologist who studied with Lewis at USC and was his longtime close friend and confidante. "He was a sort of stern father figure with the orchestra, but he also made them feel very safe. He was hard on them, but they knew that he had their best interests in mind. He prodded and urged and guided students to a level of performance beyond what they themselves imagined."
Lewis is survived by five children, 15 grandchildren, 12 great-grandchildren, former wives Oneta Gwendolyn Belsha Lewis and Colleen Knapp Durham, and longtime companion Joni Steshko.
The USC Thornton Symphony will pay tribute to Lewis's memory during the opening concert of the 2017-2018 school year on Fri., Sept. 8 at Bovard Auditorium. Carl St.Clair will conduct the symphony in Mahler's Totenfeier and Prokofiev's Fifth Symphony.