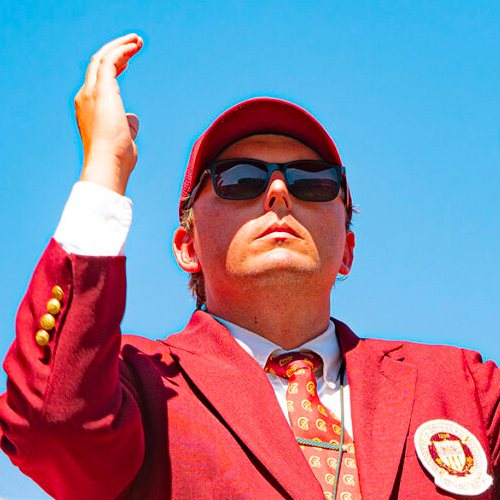 Jacobo Herrera and Jacob Vogel promote the marching arts in USC News
USC Thornton music industry student Jacobo Herrera and USC Trojan Marching Band director Jacob Vogel were featured in USC News to promote March Fourth, a day dedicated to celebrating the marching arts.
Herrera, drum major and student general manager, reflected on professional experiences he's gained while being in marching band, from starring on national television at the NASCAR Clash at the Coliseum to playing trumpet for the Los Angeles Lakers.
Meanwhile, Vogel shared a sneak-peek into the band's program for USC's upcoming Day of SCupport on May 4.
"I hope my enthusiasm for the band program and hearing more stories like Jacobo's encourages the Trojan Family to support the student experience as the program continues to grow and as we look forward to our future in the Big Ten Conference," Vogel said.