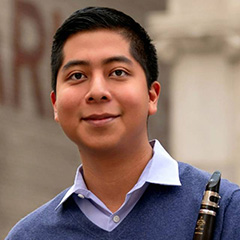 Javier Morales-Martinez receives Music Academy of the West Fast Pitch Award
Undergraduate clarinetist Javier Morales-Martinez was one of three winners of Music Academy of the West's Fast Pitch Awards in July. During the live online event, Morales-Martinez and other students pitched entrepreneurial ideas for new endeavors in classical performance, presentation and social impact, and received live feedback from industry professionals.
Morales-Martinez pitched an initiative to create a music education partnership between universities in the U.S. and an indigenous community of music schools in Mexico. As one of the awardees, he will receive a monetary award as well as the opportunity to participate in future events and programs to continue developing the initiative.