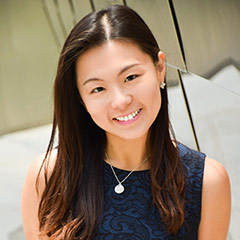 Jenny Wong conducts the LA Master Chorale on tour
Jenny Wong, an alumna of the USC Thornton Choral Music program and associate conductor of the Los Angeles Master Chorale (LAMC), was warmly reviewed for her conducting of Orlando di Lasso's Lagrine di San Pietro at the Melbourne International Arts Festival in Australia. The Renaissance madrigal cycle, which the LAMC is currently touring in an a cappella production directed by Peter Sellars, was first presented under the ensemble's artistic director, Grant Gershon (BM '85) in 2016, to critical acclaim.
The tour, which began at the Ravinia Festival in Illinois last month, will continue to Guanajuato, Mexico, and Mexico City next week, returning to Los Angeles for two performances at the Wallis Annenberg Center for the Performing Arts in Beverly Hills (Oct. 20 & 21). The tour resumes in Ann Arbor and Chapel Hill in January 2019, followed by Berkeley, London, Paris, and Santa Fe in May.