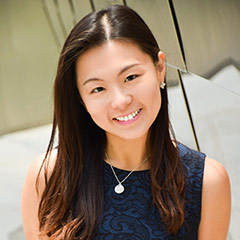 Jenny Wong named assistant conductor of the Los Angeles Master Chorale
Jenny Wong (MM '13, choral), a DMA candidate in the USC Thornton Choral & Sacred Music program, has been named assistant conductor of the Los Angeles Master Chorale (LAMC). She has previously served as a conducting fellow for the Oregon Bach Festival, Baltimore Chamber Orchestra, Norfolk Chamber Music Festival, the Distinguished Concerts International New York, and Hong Kong Singfest, and has also served as Visiting Director of Choral Activities with the University of the Pacific Conservatory of Music in Stockton.
"Jenny Wong is an exceptionally gifted artist," said Grant Gershon ('85, piano), LAMC Artistic Director and Thornton alumnus. "The Los Angeles Master Chorale will benefit greatly from her tremendous skills and keen artistic sensibilities. I look forward to working closely with her over the next two seasons."
Wong's position will include conducting Master Chorale concerts, assisting with rehearsals, facilitating the ensemble's Chamber Singers and collaborating with Gershon on artistic matters. Her position also entails a leadership role in the organization's outreach programs, including the long-running High School Choir Festival.
"It is my privilege to work with Grant and the Los Angeles Master Chorale, a visionary team built of formidable artists that has paved the way for how choral music today can be authentic, relevant and transformative," Wong said. "I look forward to creating lifelong memories and learning so much from them and with them, as they continue to uncover new grounds and inspire many, like they have always inspired me."
A native of Hong Kong, Wong began conducting in 2009 and has led choirs across the U.S., Germany, Austria, South Korea, and China. At USC, Wong has conducted the Apollo Men's Choir and was the recipient of the USC Chamber Singers Award. In Hong Kong, she founded and now directs a female youth chorus, Flow Women's Voices. Also an acclaimed vocal soloist, Wong earned her undergraduate degree in voice performance at the University of Illinois, Urbana-Champaign.
Wong's two-year appointment with the Master Chorale will begin this summer.