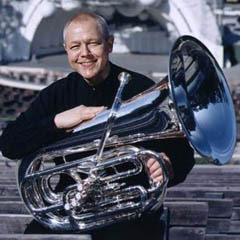 Jim Self releases new CD that includes a one-of-a-kind instrument, the fluba
USC Thornton Winds & Percussion faculty member Jim Self, a tuba player widely-known for his performances on over 1500 film soundtracks, has released a new album with guitarist John Chiodini. Floating in Winter includes several tracks featuring the fluba, a one-of-a-kind instrument that combines the tuba with qualities of the trumpet-like flugelhorn.
The F-pitched fluba was designed for Self by brass instrument-maker Robb Stewart, incorporating parts salvaged from an E♭ Yamaha tuba. Self describes the fluba's unique sound as slightly brighter than a tuba and darker than a contabass trumpet, evoking the mellow timbre of a cimbasso.
Floating in Winter includes 15 jazz-inflected tracks, from Thelonious Monk to Henry Mancini.