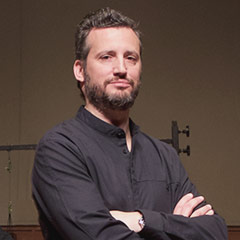 Joseph Pereira to premiere concerto with L.A. Phil
Joseph Pereira, Principal Timpanist of the Los Angeles Philharmonic and Director of Percussion Studies at USC Thornton, will play the dual role of composer and soloist when the orchestra premieres his Threshold concerto at Walt Disney Concert Hall on January 25th, 2018. Gustavo Dudamel will lead the ensemble in four performances of the Philharmonic-commissioned work, including a program at Santa Barbara's Granada Theatre.
Pereira told KUSC that Threshold's often indistinct harmonic and rhythmic structures are intended to evoke the anxieties of modern life, incorporating improvisational techniques and original percussion instruments, crafted by the composer, himself. Pereira will be joined in performance by the Maraca2 percussion duo of Tim Palmer and Jason Huxtable.
In an interview with the Santa Barbara Independent, Pereira described the unique challenges of balancing the responsibilities of composer and soloist. "I try to separate my composer self from my performer self," said Pereira. "I finished this piece just before the holiday break. I then spent the break learning my part. It was strange. I felt like a different person."
KUSC radio will broadcast Pereira's Threshold concerto live in concert from Walt Disney Concert Hall on Friday, January 26th at 8PM PST. The program, which marks Gustavo Dudamel's 37th birthday, will also include works by Stravinsky and Brahms and can be streamed live from KUSC.org.
Later this spring, USC audiences can catch Pereira when he leads the USC Thornton Percussion Group in a performance on April 3rd.