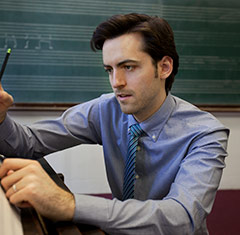 Juan Pablo Contreras wins Jalisco Orchestral Composition Prize
Juan Pablo Contreras, a doctoral candidate of the USC Thornton Composition program, recently won the Jalisco Orchestral Composition Prize with his work, Mariachitlán. Written under the guidance of Composition chair Donald Crockett, the work will be performed by the Jalisco Philharmonic Orchestra, under guest conductor Miguel Salmón de Real, on December 9 and 11, 2016. Later this month, Mariachitlán will compete against three other orchestral works for the Mexican National Orchestral Composition Prize.
Contreras, a native of Guadalajara, has previously won the BMI William Schuman Prize, the Nicolas Fagello Award, the Brian Israel Prize, and a Mexican Endowment for the Arts Fellowship, among other honors. His works have been performed by major orchestras, including the Simon Bolivar Symphony Orchestra of Venezuela, the National Symphony Orchestra, and the Mexico City Philharmonic.
In the video above, the National Autonomous University of Mexico's Philharmonic Orchestra performs Contreras' prize-winning orchestral work, El Laberinto de la Soledad (The Labyrinth of Solitude).