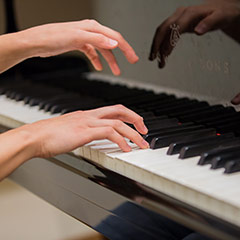 Keyboard Studies students honored at the California Association of Professional Music Teachers conference
Students and alumni of USC Thornton's Keyboard Studies program recently enjoyed an excellent showing at the 50th annual California Association of Professional Music Teachers' (CAPMT) state conference in Torrance. DMA candidate Daniel Linder won the award for Article of the Year in CAPMT Connect, the organization's official peer-reviewed journal, for "A Multisensory Approach to Memorization," while Samuel Grodin's (DMA '16) article, "Teaching Students to Verbally Engage Audiences," was a finalist. Alumna Regina Ngo (BA '15) earned the Outstanding Service Award for CAPMT's Greater Pasadena Chapter.
The annual conference, which celebrates years of music innovation and inspiration, also featured performances from Thornton DMA candidates Jennifer Cruz, Eloise Kim, Michael Krikorian, and current master's students Tingyuan Luo, Sun-A Park, and Yunji Yi.
Also announced at the conference were the winners of the 2018 James Ramos International Video Competition, which celebrates classical performance videos in the context of social media. Keyboard Studies DMA candidate Eva Schaumkell won in the collegiate category for her performance of Liszt's Concert Paraphrase on Verdi's Rigoletto, which can be seen below.