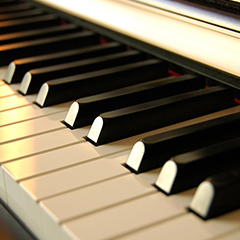 Thornton students take home top honors at international piano competitions
Rixiang Huang and Barry Tan, DMA candidates in the Keyboard Studies program, each recently took home top honors at international piano competitions.
Rixiang Huang won first prize in the World Piano Teachers Association International Piano Competition. As one of the winners, he will perform a piano concerto during the World Piano Conference in Serbia and participate in a concert series later next year. He was also recently selected as one of the finalists for the 2021 New York Concert Artists & Associates Worldwide Debut Audition.
Praised by audiences and critics alike, Huang has already established an international reputation for himself. As a soloist, he has performed with orchestras such as the Royal Philharmonic in London and the China National Symphony Orchestra. Earlier this year, Huang was also awarded first prize in the Piano Masters category of the Chopin International Piano Competition.
Barry Tan received the bronze prize and the prize for Best Overall Performance of a Canadian Work at the 2021 Vancouver International Music Competition for his performance of Jean Coulthard's Piano Sonata No. 2. To prepare for the competition, Tan practiced the piece with Thornton Keyboard Studies faculty member Stewart Gordon.