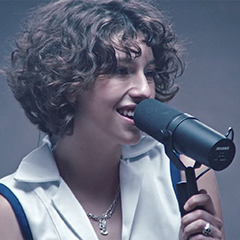 King Princess nominated for GLAAD Media Award
King Princess, known off-stage as Mikaela Straus, has been nominated for a 2020 GLAAD Media Award for Outstanding Music Artist. Her nomination comes after the success of her debut album, Cheap Queen, that released in the fall of 2019. Straus is a non-degreed USC Thornton alum who studied in the popular music program. Her keyboardist, Melody Ector (BM '19), is also an alum of the popular music program.
Straus rose to fame with her critically-acclaimed song "1950" in 2018, after which she was signed to Mark Ronson's record label, Zelig. The Brooklyn-born artist is currently on tour with Cheap Queen, and will open for Harry Styles on the European leg of his world tour in April. The 2020 GLAAD Media Awards will take place April 16.