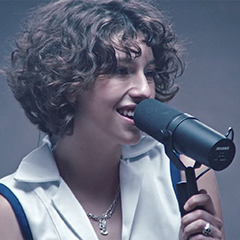 King Princess performs for Cindi Lauper's annual benefit show for LGBTQ homeless youth
Mikaela Straus, a non-degreed Popular Music alum who performs under the name King Princess, recently performed for Cindi Lauper's annual benefit concert, Home for the Holidays, which supports LGBTQ homeless youth. Straus sang her hit single "Hit the Back" off of her debut album "Cheap Queen," before joining a duet of Lauper's "Time After Time" with songwriter Justin Tranter.
Performing in the concert alongside Straus were stars such as Billy Porter, Kesha, Henry Rollins, Marilyn Manson, and of course Cindi Lauper herself. Now in its ninth year, the annual benefit raises money for Lauper's organization True Colors United, which she founded in 2008.