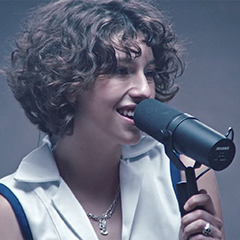 King Princess to make SNL debut and open for Harry Styles on tour
Mikaela Straus, who performs under the name King Princess, will make her Saturday Night Live debut on Nov. 23 with host Will Ferrell. Straus is a non-degreed alum of the USC Thornton Popular Music program, and has become an emerging alt-pop sensation. Her band includes Popular Music alum Melody Ector (BM '19) on keyboard.
The announcement of her SNL debut comes after a string of firsts for the artist. She recently released her debut album, "Cheap Queen," made her fist late night appearance on "The Late Show With Stephen Colbert," and announced she will be opening for Harry Styles on the European leg of his world tour, which kicks off in April 2020.