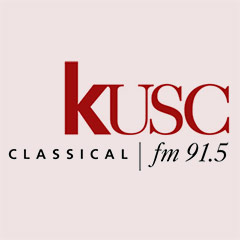 KUSC's "Arts Alive" features Thornton's Community Engagement Program
Classical KUSC's "Arts Alive" radio program recently caught up with students of the USC Thornton Community Engagement Program as they taught music to Los Angeles elementary school children. Host Laura Ornest interviewed several USC undergraduate students and their enthusiastic young pupils at Vermont Elementary in University Park, along with Susan Helfter, director of the Community Engagement program.
Previously, "Arts Alive" profiled Thornton Composition faculty member Veronika Krausas ahead of her Oct. 1st performance collaboration with artist Ana Prvacki, Porcupine for tent, quintet, bows and elbows, at Walt Disney Concert Hall.