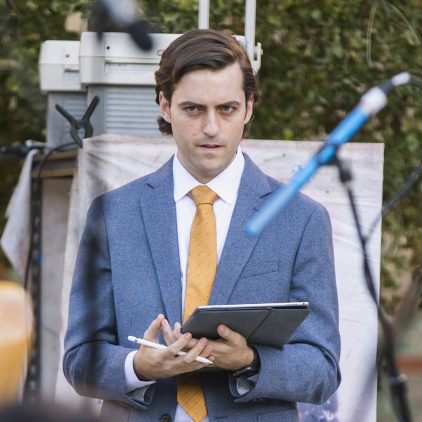 LACO premieres new commission by Juan Pablo Contreras
This week, Los Angeles Chamber Orchestra (LACO) will premiere composer and USC Thornton DMA student Juan Pablo Contreras' new piano quintet, Musas Mexicanas. The two-night debut will take place Thursday, Feb. 13 at Santa Monica's Moss Theater and Friday, Feb. 15 at The Huntington in San Marino. Commissioned as part of LACO's In Focus series (which is led by USC Thornton faculty member Margaret Batjer), Musas Mexicanas celebrates the legacy of three Mexican muses – La Malinche, Sor Juana Inés de la Cruz and Frida Kahlo – who helped shape the history of the country.
Contreras, who is recognized as "one of the most prominent young composers of Latin America" (Milenio), is fascinated by the musical identity of his home country.  He hopes the piece helps him "forge a style as a composer that reflects the beauty of the country," Contreras said in a blog about the new work. "I really want to discover or propose a new synthesis of classical and Mexican music…I want to be a true Mexican composer," he added.
The composer has also been selected as LACO's 2019-2020 Sound Investment composer. Through this program, LACO's financial supporters commission and sponsor a new piece and get a behind-the-scenes look at the composition process.
Contreras will be following in the footsteps of USC Thornton faculty members Sarah Gibson, Andrew Norman, Ted Hearne and Donald Crockett who all are previous Sound Investment Composers. Gibson, the current composer in the program, debuted her 2018-2019 work, warp & left, in January.