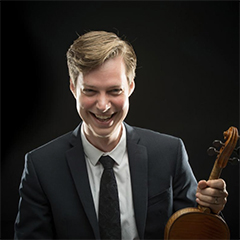 Los Angeles Chamber Orchestra introduces violinist Jason Issokson in new video
The Los Angeles Chamber Orchestra recently introduced violinist and USC Thornton alum Jason Issokson (DMA '11) as one of the newest members of the orchestra in a video interview and performance. In the video feature, filmed in November of 2019, he discusses how he was first introduced to chamber music, and performs Brahms' Sonatensatz in C minor.
Issokson was a founding member of the Argus Quartet, and was appointed Second Violin with the Los Angeles Chamber Orchestra in the fall. Learn more about Issokson and enjoy his live performance below.