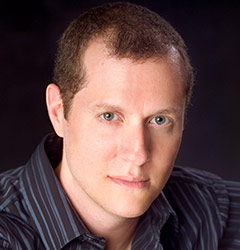 Los Angeles premiere of Mark Weiser opera at Art Share L.A.
The Place Where You Started, a chamber opera by USC Thornton Composition faculty member Mark Weiser with a libretto by Amy S. Punt, will be performed in collaboration with the Helix Collective, May 17-19 at Art Share L.A. The multimedia work, Weiser's fourth opera, explores tensions around race and class. His previous opera, Where Angels Fear to Tread, was named the top operatic event for 2015 by the San Francisco Chronicle.
The production will feature several Thornton vocalists, including tenor Anthony Moreno (MM '15, DMA '18) in a leading role, along with alumni Jon Lee Keenan (MM '09, DMA '13) and David Castillo (MM '13). The Helix Collective, a Los Angeles quartet with a focus on new music, includes percussionist Lorry Black (MM '12, DMA '17), pianist Katie Norring (BM '10, MM '12, DMA '16), and oboist Phil Popham, as well as flutist Sarah Robinson.
General Admission tickets for the production start at $35.