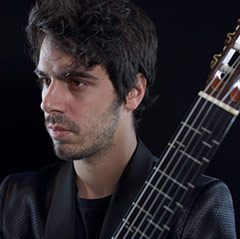 Mak Grgić releases new album
Mak Grgić (MM '12, DMA '16), an Artist Diploma candidate in the USC Thornton Classical Guitar program, has released an album, MAKrotonal, which uses specially re-fretted instruments to reexamine standard repertoire and to present newly commissioned works. Excerpts can be heard on Grgić's website.
Grgić serves as director of a number of music festivals worldwide and is also an adjunct faculty member at Mount Saint Mary's University.