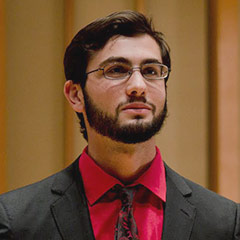 Masters student receives funding to research and perform Brubeck's "Gates of Justice"
Daniel Newman-Lessler, a second year student in the USC Thornton Choral & Sacred Music master's program, has received a research grant from The Brubeck Institute at the University of the Pacific to edit a new edition of Dave Brubeck's jazz-imbued cantata, The Gates of Justice, which he will later perform. The Gates of Justice dates from 1969 and draws parallels between the spiritual experiences of Jews and African Americans during the civil rights movement.
In addition to his studies at USC, Newman-Lessler is currently serving as a conductor for the Kadima Senior Philharmonic and the Pleasant Valley School District Chorus. He is also the assistant conductor and accompanist for the Los Angeles Zimriyah Chorale, which is led by Choral & Sacred Music faculty member Nick Strimple.